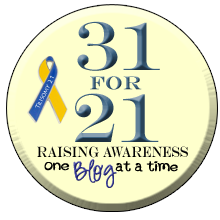 Day 2: I've been thinking about Down syndrome a lot lately, but not in the ways you might expect. We are 8 1/2 months into our journey, and so far, it's been very different from what I expected.
I expected to always be sad and worried about Ds. Today, there are still days the future has me wondering, and even concerned at times, but it doesn't scare me like it once did. I know we, with God's help, will be able to handle anything that comes our way.
I expected a baby with lots and lots of health issues. Now that her heart is fixed we have a healthy and happy baby.
I expected people to look at my baby and shy away, to be uncomfortable around her. Instead, she draws everyone in with her beautiful, irresistible smile and engaging personality.
I expected my life to revolve around Ds. Sure, my days can be busy with therapies, but my days are filled with way more
baby
things, than Ds things.
I expected to think of nothing
but
Ds when I looked at my girl. I see Ds in her features, and those distinctive features are absolutely beautiful to me, but they aren't what I see. I see a brown-haired, blue eyed beauty with my nose and Darren's dimples. A sweet girl who is Claire, and not a diagnosis.
What I didn't expect where the amazing blessings that Down syndrome has brought into my life.
Awareness. Of all people with disabilities. This is not pity, but rather a different kind of understanding.
Friends. People, moms and kids, who I may never meet, and yet, I honestly call them friends. The T21 community is amazing, and one that I am so proud to be a part of.