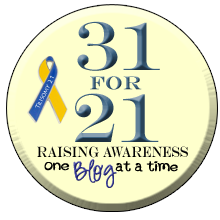 Four months ago today I'd just handed my baby girl off to a surgeon, and was anxiously awaiting updates on her OHS. Today, Claire is healthy and thriving, and that scar on her chest is the only reminder of her surgery.
I have
a friend
whose little girl will be having OHS soon. She doesn't share Claire's extra chromosome, but she does have the defect (AVSD) that so many of us are familiar with. To help prepare Lu's family for her surgery I wanted to put together a list of things that were helpful for us, or things I wish I'd known a head of time.
See if there is some place other than the main surgery waiting room for you to wait during the surgery. We were able to wait in one of the outpatient hospital rooms and it worked very well. It was quieter than the main waiting room, and also allowed me a place to pump. This was important because I didn't want to have to leave to pump and miss an update.

Bring snacks and water with you for surgery day. I didn't want to risk missing an update, and having food with me meant I didn't have to make a trip to the cafeteria.

Have something mindless to do during the surgery. I had a magazine to flip through and my computer to keep me occupied, and it helped keep me from worrying as much.

Get a room at the Ronald McDonald House. When Claire was in the PICU, I was allowed to stay in the room with her overnight, but there was no shower, only a shared bathroom. Getting out of the hospital for a bit and getting freshened up really helped my state of mind. Once she was moved to the floor there was a full bathroom in her room.

I had a radio beside Claire while she was in the hospital. It helped calm me, and also offered some relief from all the hospital noises.

Let the nurses take care of the procedures that may be scary or painful. You should be a source of comfort for your baby, and not associated with her tears.

Baby Legs are a great way to keep your little one warm while she is still covered in tubes and wires. And, they're awfully cute!

ETA: I knew I'd forgotten something! Thanks Becca for the reminder. Looking at pictures of other kids after surgery was very helpful. While it was still awfully hard to see MY baby with wires and tubes everywhere, at least I had an idea what to expect. Here are Claire's

surgery pictures

.
If you have additional advice or suggestions, please leave comments!