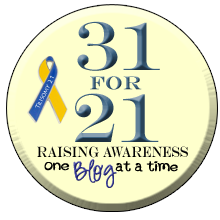 Day 24: Today it's quiet at home. Claire is at the farm with Darren. I'm *supposed* to be getting caught up on my household accounting, so I'm not terribly behind for year end. But I couldn't resist taking a few minutes for a quick update. While I'm missing my girl, it's also nice to camp out on the couch with my computer and football on the TV.
This Wednesday we sell our calves, and it will be Claire's first sale barn experience. She's such a people person that I'm sure she's going to eat up all the attention. Selling the calves signals the beginning of the "quiet time" on the farm. The calves will be gone, the cows are still on cornstalks, and the farming is wrapped up. The next month is filled with maintenance and clean up before we bring the cows home and start calving again.
Since we started Claire's reflux meds (about 6 weeks ago) she's been refusing baby food and yogurt. She will eat table food just fine, so we're just going with that. So far she's tried hamburger, chicken, grilled cheese, french fries, sausage, pancakes, carrots, sweet potatoes, avocado, hummus, and apples. I may be missing some, but overall I think she's doing great. She doesn't eat very much at one time, usually just a few bites, but I'm thrilled with the variety she eats.
I'd hoped to take Claire to the pumpkin patch today, but since she's not home, I don't think it is going to work. We will probably have to just settle for pumpkins from the store. We had almost an inch of rain on Friday. A little warmer weather would be help dry things out so that I can get some fall pictures of Claire.
Ok, I've procrastinated enough....