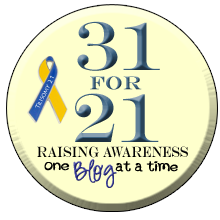 Day 12: These days it seems like I am always playing catch up. I'm behind on laundry, dishes and of course, I'm behind on the really important stuff, like blogging and reading other people's blogs.
This weekend was another busy one for us. Saturday morning Claire and I attended our first local community group. There were 4 other moms and 3 kids there. I'm always a little nervous going into situations where there may be older kids with Ds. I expect to be a little uncomfortable, and so far, that just hasn't been the case. The three kids on Saturday were from 3-9 years old, and they were all awesome. There was a wide range of abilities, but I think I think I will learn a lot from the other mothers that have gone before me. Claire was the youngest there, and I'm going to learn all I can from the experiences of the other moms.
On Saturday afternoon we headed to my sisters. My aunt was visiting from Texas, and while it was a short visit, it was great to see her. She sells Lia Sophia jewelry and she and my mom set up quite a few shows while she was in town. I'm hosting a catalog show, so if you'd like to get started on your Christmas shopping, let me know and I'll send you a link to my party.
Saturday night was spent at the farm, and Sunday morning we headed to Brian's shoot. After Brian's passing we set up a scholarship fund in his honor. It is for students going into an Agricultural field, and each year we hold a hold a sporting clay shoot as a fundraiser. This year Darren was weaning calves, so neither he or I shot. While I missed shooting, I haven't picked up a shotgun since last year, so it probably wouldn't have been very pretty anyway.
We finally made it home around 10pm on Sunday night (which is my excuse for not getting a post up). We had Claire in her jammies for the ride home so we were able to get her out of her car seat and drop her right into bed. While I love our busy weekends, and visiting with family, it sure is nice to get home again.