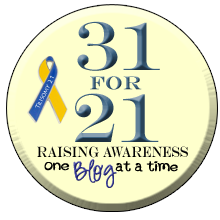 Claire has blessed my life in so many ways, but one of the things I am most thankful for is being introduced to
Reece's Rainbow
. Reece's Rainbow started as a local outreach program for parents who recently received the news that their child had Down syndrome. In 2006, the program expanded to include international adoption, focusing primarily children with Ds, but there are children with other disabilities on the site as well.
In Eastern Europe, where the adoption program in the largest, there is no support available when a child is born with Ds. There are no community groups, no therapy, no inclusion in schools. Parents are pretty much forced to give their children away, whether they want to or not. There is such a stigma surrounding disability that parents don't really see any other option available. These children are placed in orphanages, and live there until they are 4-6 years old. Once they reach this age cutoff the children are transferred to mental institutions. Many don't survive more than a year or two once they are transferred.
I often browse the RR site, and my heart is always heavy. These children are in my head and on my heart constantly. I wish I could personally save each and every one of them. Since that isn't feasible, I donate often, and this year I am a
Christmas Warrior
.
Every November and December Reece's Rainbow has a Christmas Warrior program where people can fund raise for a specific child. I'll be introducing you to the sweet girl I am sponsoring soon. With just a few days left until the launch of this years Christmas fundraising, there are still children on the site without sponsors. The goal is to have every child sponsored, and to increase their adoption grant by $1,000. The biggest obstacle in international adoption is the huge cost, and the truth is that children with the largest grants don't have to wait as long to be adopted.
I know many of you who blog are aware of RR, and may already be a Christmas Warrior this year. If you've been thinking of signing up, but haven't done it yet, there is still time. Just
click here
for more information.