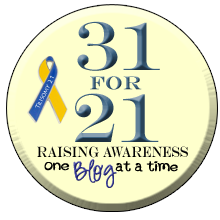 Day 8: Claire is in bed and I'm tired. Darren is gone tonight, and it's days like these that I have tons of respect for single parents. Don't get me wrong, I love being able to spend extra time with Claire (I am only working 3 days a week), but when Darren is out of town, the days and nights wear on me when I don't have help.
Tomorrow morning is our first Ds community group meeting. Actually, last month was the first meeting, but Claire and I missed it because we were out of town. I hope that we meet some families in our area that I don't know about, but I'm not sure if anyone new will be there. This is one of the hardest things about living in a rural area. There just isn't a large population of people with Ds in our area. I only know of about 8 kids with Ds in a 50 mile radius. There may be more, but still, that's a pretty small group of peers for her.
And, because I'm feeling fairly uninspired tonight, I'll give you a couple of pictures from Claire's first silage harvest over Labor Day weekend. Please excuse my crazy looking dog too.