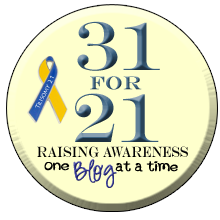 Day 4: This is continued from my post yesterday...
Tim Shriver was presented the 2010 Quincy Jones Exceptional Advocacy award, by Quincy Jones himself. Tim was a very eloquent speaker and it was obvious he is incredibly passionate for The Special Olympics. There was also a video montage of some of the athletes that had me very excited for Claire to participate, if she chooses.
The 2010 Quincy Jones Exceptional Advocacy Self Advocate Award was passed from DeOndra Dixon to Karen Gaffney.
Karen Gaffney is an absolutely amazing speaker. She was completely comfortable in a situation that would have me sweating like crazy. And, I noticed she only glanced at her notes once during her entire speech. She is tiny and beautiful!
The fashion show started with models showing off clothes from Saks
But these models were the real stars of the show. There were 24 models with Ds, and they ranged in age from about 10 to 30.
Her retro dress and glasses were adorable
These guys seemed to be having a great time being escorted by a Nuggets dancer. The guy on the left totally reminds me of Barney on How I Met Your Mother. He's very handsome!
This young man was having a blast. He was dancing and hamming it up the whole way up and down the runway. You could see he was just eating up the attention. This young lady is beautiful. She was crowned Homecoming Queen last year. She is also TALL. She was escorted by Chauncey Billups of the Nuggets, and she wasn't much shorter than he was.
This young lady was escorted by Miss Colorado and they were awesome. They had a whole routine worked out for the end of the runway which included a shimmy, hip bump and blowing kisses.
Darren wasn't able to join me for the event, so my friend Kristen went along instead. We had a great time and will definitely be attending next year. We are just debating if we will be guests, or volunteers.