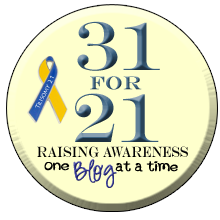 Day 3: Be Beautiful Be Yourself is the motto for the Jet Set Fashion Show fundraiser that was held in Denver last night. This fundraiser was hosted by
The Global Down Syndrome Foundation
, and it was an amazing, star-studded evening.
Last nights events started with a cocktail hour and a huge convention room full of silent auction items. I was so busy taking in the all the excitement, awesome auction items, and beautiful people that I didn't get any pictures of this. The auction items included everything from jewelry, wine, and gift baskets to sports memorabilia and fabulous trips.
Outside of the conference room there was a roped off area for the VIPs, and this is where we first spotted Jamie Foxx and his sister, DeOndra Dixon. They were doing an interview, and it was amazing to see them together. I couldn't hear anything they were saying, but Jamie would say something to his sister, and her face would light up with a huge grin, and her whole body would shake with laughter. The love and affection between Jamie and DeOndra was evident to all, and I could have stood and watched them for a lot longer than I did.

DeOndra Dixon, Jamie Foxx

When the silent auction ended, we made our way down to the room for the dinner and fashion show. The hallway was decorated with stars bearing the names of those being honored during the night.
The celebrity stars of the night were available for some photos, and we got some decent photos, but also got many that had hands, heads or hair obstructing the view.

Jeff Probst

Quincy Jones

Chauncey Billups

Jamie Foxx, DeOndra Dixon, ?, ?, Chauncey Billups head, Eric Hutchinson

Jamie Foxx

The huge (and full!) ballroom






After dinner there was a live auction with some amazing trips. One was a trip to American Idol, one was to the Survivor finale, and one was at an exclusive golf resort. There were twelve items on the auction, and they all raised anywhere from $10,000 to $25,000 each! And while it was amazing to see so much money raised in such a short amount of time, the real stars of the show were still to come.

Auctioning off the Survivor trip





Okay, this post is already super long and I still haven't even gotten to the most important part, all the beautiful models! I will continue this tomorrow with the award winners (Tim Shriver and Karen Gaffney) and the fashion show. But I will leave you with a little teaser, a sneak peek at a couple of the models!