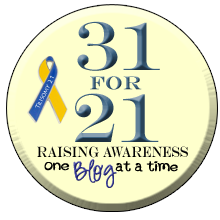 Day 7: Many of you who read this blog know me through Claire. And so, you've only 'known' me for about 9 months. But before Claire, and before I married Darren, I was married to Brian. October will always make me think of Brian, but today October doesn't bring the sadness it once did.
Yesterday would have been Brian's 33rd birthday, but nearly five years ago he passed on. October used to be the beginning of some hard months. It was both the month of his birthday and the anniversary of his passing. For a while, Thanksgiving and Christmas were very hard. Holidays never seem as joyous when you are missing a loved one. But today, while I still miss Brian very much, I am able to focus on the blessings he brought into my life.
I am thankful for Brian's wonderful family. His parents, sister and nieces, grandma, aunts, uncles and cousins. While I don't see as much of them as I used to, they will always be my family, and I love them very much.
Most importantly, I am blessed to have had Brian in my life. We had eight wonderful years together, and I would be a very different person today if I hadn't known him. I am so thankful for all of our wonderful memories. The times we laughed until we cried, our trips together, and especially the days that were all alike. Those days where we worked our jobs, spent the evening together, and then got up the next morning to do it all over again.
Those days make up the bulk of our lives, and I've learned to cherish them. To slow down and appreciate all that I have in my life. I've learned to pick my battles. There are things that may seem huge at the time, but really are insignificant in the long run. I've learned not to hold grudges. Forgiving someone always lightens the load on my shoulders. And I've learned to say "I love you" everyday. So that those in my life always know how important they are to me.