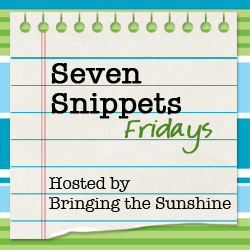 In case you missed it....Claire is
WALKING
!! In other milestone news, she reached another one this week that I am *almost* as excited about. She can nod her head. Sounds crazy, I know, but I have been working with her on this FOREVER. And, it's the cutest nod too. Very deliberate and even used appropriately a couple of times, though mostly mimicked.
Target featured an adorable little boy with
something extra in an ad
recently. What I love about this is that Target didn't make a big deal out of it. They didn't expect praise for including this little boy, they just did it. Actually, our Ds community has more more to say about the ad than Target does.
ETA: The media has taken this story and run with it, and that, unfortunately puts a damper on my excitement a bit. It was one thing when parents were pointing out the ad, but all the media attention put a spotlight back on the differences of Down syndrome, when the beauty of the ad was in having those differences not mentioned.
Thanks to my mom (love you mom!) I realized I do look pregnant this week. Mom told me I was looking very pregnant, and I kept disagreeing with her. Then, a couple of days ago I saw my reflection in the kitchen window, and thought "holy cow, you're huge"! Don't get me wrong, I love being pregnant, but I do hope to avoid the comments about how huge I am as I've still got two months left. Hopefully it was just the shirt I was wearing....
Claire will be 2 next Friday. How in the world is she 2 already??
One year ago...
Our winters are DRY. Claire's lips are constantly chapped and cracked. I'm trying to keep them covered in chapstick and aquaphor, but it doesn't seem to be helping much as missy is always chewing on something. (She's getting her 2 year molars). If anyone has some other suggestions, I've love to hear them.
When I was pregnant with Claire, I had issues with preeclampsia right at the end. My blood pressure is already starting to go up this time around. I'm hoping for a VBAC, and really need it to stay down, as the doctors won't induce on a VBAC due to risk of rupture. I have another Dr appt on Monday, and hope my blood pressure stayed the same or has gone down!