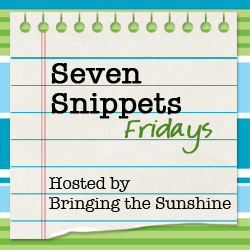 I love this blog, and most especially the friends I've made through it. However, I haven't
made the time
taken the time to keep up with it like I really want to. So, in an attempt to be a better blogger, I'm going to try some new things. I'm not sure that adding features, like this post, will help, but a for a procrastinator like me a deadline is always a good thing! I'm also going to try the 365 project this year. A picture a day posted on my
new blog
. I may be getting in over my head....
If you are part of the Down syndrome/adoption community on Facebook, you've probably seen this video of Mia's story posted many times. If you haven't seen it yet, please watch it. This is a segment that ABC World News did on Mia's adoption from the Ukraine.
Hidden Angels: American Families Saving Children With Down Syndrome - ABC News
This link includes the video and the more in depth article.
The end of the year always means 'best of' lists, and the highlight of these lists for me are the best books lists. I'm not going to point you to the publishing world's best of list, but rather a blogger who has never let me down. When I need any kind of book recommendation, especially audio, I look to
Sandy
.
The Best of 2011 - Books
The Best of 2011 - Audiobooks
Claire also had another booth hearing test done, as she wasn't responding to some frequencies last time. Maybe she just had a cold, because everything checked out perfectly with this test.
That means all of her two year appointments are finished except for her well checkup and her thyroid and iron blood work.
I hope that this new Friday feature will mean that I'm actually posting here at least twice a week. A big thank you to Andi for hosting (the link to her awesome blog is below). If you don't know Andi, definitely stop by for a visit. One of my favorites is her
Kelle Hampton
post.